Our Puppies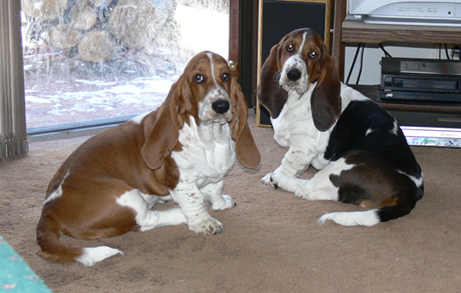 Our goal is to produce high quality puppies for pets. We do this in two basic ways. The first is by selecting our breeding stock for temperament, health and conformation. The second is the care and feeding, of our mothers (and fathers) and puppies.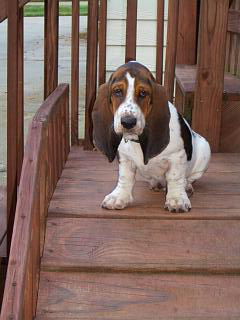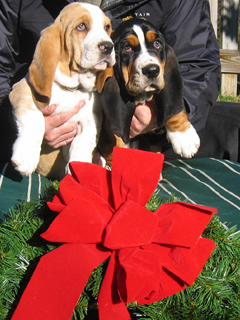 The foundation stock that we have acquired for our kennel is out of show champion kennels. The mothers and fathers that we have raised here are the best puppies out of our best parents.
We are selecting for dogs that will be calmly affectionate and reasonably quiet. They don't make good guard dogs because they are too friendly and are not into protecting territory. They tend to mimic your energy level if you are being a couch potato; they want to be a couch potato. If you want to go for a walk or a car ride they want to go for a walk or a car ride. They are very much a companion dog that wants to be where you are.
By observing my dogs and keeping track of reports from my customers, I have worked to minimize health problems. For instance, I feel my adults and puppies are very good looking Bassets, however, I have purposely tried to breed for the Basset look without overdoing the sad eyes and wrinkles because that can lead to eye and skin problems. Also, before we started over again with our breeding in 1980, we had some back problems with our dogs. Since then, with our current bloodlines and careful selection, we have produced puppies with good general conformation and consequently, very few of our customers have reported mid-life problems with their dogs' backs.
Our kennel is not a "puppy-mill." We are proud of our facilities and the way we care for our dogs. We sell all our puppies to individuals who must come to the kennel. We have never sold puppies to pet shops or wholesalers.
We encourage visitors, both by appointment and drop-in.
The building is a concrete block structure which gives very good year-round protection from the weather and is surrounded by large yards which the dogs have access to 24 hours /day.
We feed a high quality feed to both the adults and the puppies and also supplement the mothers before and after birth.
All of our puppies have their first shots, a series of de-wormings, a complete physical by our veterinarian, and are guaranteed to leave the kennel in good health. Also, all of our Bassets are American Kennel Club registered and our puppies are sold with the AKC limited registration (i.e. for pets not for breeding).
We take care to not over work our mothers. We typically breed them only once per year and retire early enough that they are still making and raising healthy puppies and can be placed in a home to enjoy the rest of their lives.
Most of my puppies should now grow up to be between 50 and 60 pounds, with some males growing to 65 pounds. Usually by knowing the parents and looking at the relative sizes of the puppies, we can make good guestimates of eventual sizes.
We have quite a variety of colorings in tri-color (black, brown and white) and red and white. See the puppy color guide - www.taitsbassets.net/puppy_colorguide.html